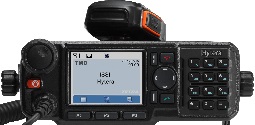 Multi-option Location Service
MT680 Plus support GPS, Glonass and Beidou location.Multi-option system location service lets MT680 Plus be used globally.
DMO Gateway& Repeate
DMO Gateway and Repeater function supported allow DMO coverage improved.
Dust proof and Waterproof
Front panel IP67 protection guarantees usage in full of dust environment or exposure to wet environment.
Large size color display
Equipped with large-size TFT LCD clear display delivers you favorable accessibility even under strong sunlight .
Multi-option location service
Support GPS, Glonass and Beidou location.
Built-in powerful speaker 
Built-in 4W powerful speaker assures the clear and loud voice even without the external speaker.
Security protection
Support authentication,E2EE and AIE with full 4 algorithms
TEA1, TEA2, TEA3,TEA4.
Built-in BT
Allow wireless accessory adaptation.
Ergonomic Keys
With silica gel key materials, resilient touch experience brings easy operation.
Enhanced audio quality
New added noise cancelling solution ensure voice broadcasted clearly even in very noisy environment.
Flexible installation
MT680 Plus supports dash mount, and desktop mount.
2-in-1 Knob
2-in-1 large knob makes channel switch and volume adjustment quick.
Rugged design
Withstand the tough highly accelerated lift test and strict Military
standard G test, rugged quality ensure outstanding performance in tough use.
General Specifications
Frequency Bands
380-430 MHz 806-870 MHz 405-475 MHz 320-380 MHz
Dimensions
Standard Mount:70 x 184 x 186mm
Front Panel:70 x 184 x 66mm;
Main Moubt:70 x 182 x 177.6mm
Desktop Mount : 150 x 220 x 291mm
Weight 
Standard Mount 1853g 
Operating Voltage
10.8-15.6(VDC) 
RF Specifications
RF Channel Bandwidth
25KHz
RF Maximum Power Output
10W
RF Power Level Accuracy
±2dB
RF Power Automatic Control
5dB Per Step,6 power step levels
Receiver Class
Class A & B
RX Static Sensitivity
 ≤116dBm(Typical: -118dBm)
RX Dynamic Sensitivity
≤106dBm(Typical:-108dBm)
Audio Specifications
Maximum Audio Power Output
8W (internal SPK) 
Rated Audio Power Output
4W (Internal SPK)
User Interface
LCD Color Display
2.8inch,320 x 240 pixels, 260k colors
Talk Group-TMO
6000 
Talk Group-DMO
4000
Telephone book
2000
Draft
50
Inbox
400